Enrolling in Our Summer School Program in Succasunna, NJ
At Creative Learning Academy, our Summer Explorers summer camp program in Succasunna, NJ, is an exciting alternative to the doldrums of summer. Instead of letting the dog days of summer slowly crawl by, make the summer an exciting one for your child by enrolling them in our exhilarating program! There's no better way to make sure your child is being supervised in capable hands. They'll also enjoy a memorable summer of educational experiences and making new friends while having fun and learning.
Summer 2023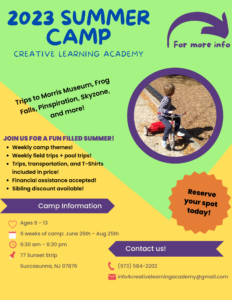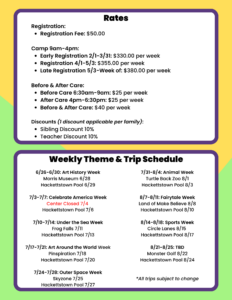 From Arts & Crafts to Field Trips, It's Going to be a Fun Summer
Keeping your child engaged and active with learning opportunities galore is an exciting alternative to a summer spent in front of the television or immersed in a smartphone screen. Here are just a few of the reasons why our summer school program in Succasunna, NJ, is the ultimate choice for your child:
Weekly trips including: Land of Make Believe, Funplex, Monster Golf, , Bowling, Sky Zone, Frog Falls, and more!
Swimming at the Hackettstown Pool
Sports
S.T.E.A.M.
Arts and crafts
Music
All field trips included in tuition cost
Trained, courteous staff
Three-, four-, and five-day programs for students in 1st through 8th grade!
Make Your Child's Summer Count: Benefits of Summer School
Just because the school's out for the summer doesn't mean your child has to stop learning or having fun. Benefits of enrolling your child in our summer camp program in Succasunna, NJ, include:
No Student Left Behind  Many low-income families do not have access to educational resources when school's not in session. Our Summer camp program may be able to assist you to find funding to help with summer camp costs.
Avoid Summer Brain Drain During the summer months, many children lose valuable knowledge and skills learned during the previous academic year. Statistics show that these lost summer learning opportunities can have a cumulative effect on your child's education. Having them participate in a summer camp program helps them keep those skills fresh and avoid summer brain drain. While the rest of their classmates struggle to get back into the learning groove come fall, your child will be one step ahead of the curve and ready to learn.
Promotes Physical Activity Summer camp programs encourage physical activity and spending time outdoors while fostering teamwork and communication skills. Your child will love playing sports and swimming at Hackettstown Pool with other children their age this summer!
Not Just for Academics  Summer camp programs are not all about academics. There are many social and cultural benefits for children as well. Arts and crafts, as well as music activities, inspire children to feel confident about expressing their creativity, while also increasing their social skills. Your child will grow by leaps and bounds thanks to our interactive, immersive summer learning experience that encourages them to make new friends in a supervised setting.
Learn More About Our Succasunna, NJ Summer School Program
Creative Learning Academy wants to help your child successfully develop their academic, social, and communication skills in an environment that promotes a positive attitude and a healthy mutual respect for one another. Keep your child active mentally and physically this summer. To learn more about our Summer Explorers summer camp program in Succasunna, NJ, call us today at (973) 541-8241!