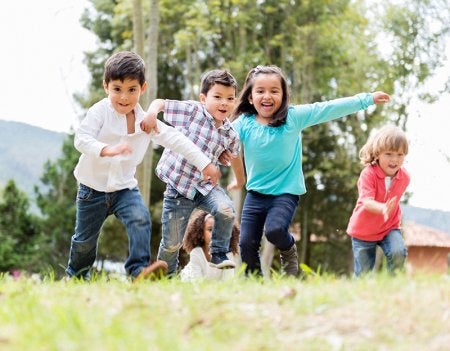 Ah, the promise of summer: The sun is shining, the grass is green, and the animals are out—including your kids. Keeping your children busy during the summer can be a challenge, but it's essential to keep them out of trouble and their brains and bodies working. A lot of parents rely on summer learning academies or summer sports camps to occupy their children, but it's important to know which option is best for your child specifically. The Creative Learning Academy breaks down the benefits of each option, and then applies them to making the big decision.
Summer sports camp
Sports, the outdoors, running around, and fun—summer sports camps promise a lot of physical activity and a lot of time spent outside. They help build friendships, a sense of teamwork, and physical discipline, all while having fun. Beyond this, though, they encourage important growth milestones and cultivate desirable personality traits. Ambition is encouraged because all sports are goal-oriented, whether it's to get a touchdown, hit a home run, or score a goal in soccer. Once children see the success and progress they're making, it also pushes them to do better and make other goals for themselves, wanting to be the very best they can for themselves and their team. Sports also build social skills because you have to work with your teammates, and they help a child to develop strategic thinking when working out the best way to win or outdo the opponent. Sports camps also tend to give children a boost of confidence in their ability to succeed, making them more likely to try new things and interact more with those around them.
Summer learning academy
Books, art, history, activities, and science: Summer learning academies challenge your child and encourage them to think critically. Some learning academies focus on one subject, such as the arts, whereas others cover a wider field of topics, supplementing everything your child learned this last year with new and interesting material while helping them prepare for the next grade. Summer learning academies usually have a lower teacher-student ratio, meaning your children will get more attention than they received during the normal school year, and the setting is generally a bit more relaxed than standard school, which provides your child with a nice break from the rigidity of the school year. Children are encouraged to explore topics and do activities to hone thinking and motor skills while building closer relationships with their instructors.
So which is best?
The option that is best for your child will be one she would enjoy and benefit the most from. If your child struggled through the school year and you're worried about her falling behind, a summer learning academy will help her catch up to the other students—and even gain an advantage over them. Summer learning academies help fight the loss of knowledge the summer gap can foster, and while your child may not be thrilled at going to school during the summer, most learning academies focus on activities and try to make the environment fun and educational. They're great for children who show a love for school and learning, as well, and most academies offer recess or physical activity to keep your child healthy and active.
Sports camps are great for children who are active, competitive, or aspiring athletes. If your child played sports in the normal school year and wants to improve his skills, sports camps are the answer. They also help build friendships and social skills, so if your child didn't struggle academically through the school year but also didn't make many friends, sports camp can be a way to give him the chance to interact more with others and have something in common with other kids his age. Sports camps will keep children busy and active, as well as foster healthy habits, teamwork, and strategic thinking.
If you're not sure what would be best for your child, try talking to them about it and seeing what they're most interested in. Giving them the chance to express their opinion and exercise some control over the choice will make them more open to giving it their best shot, and you'll end up with a happier, busier kid in the summer. The Creative Learning Academy knows that what your kid does in the summer months can strongly impact their growth, learning, and social skills, so make sure you make a decision with them in mind.
Check out our summer learning academy program today.