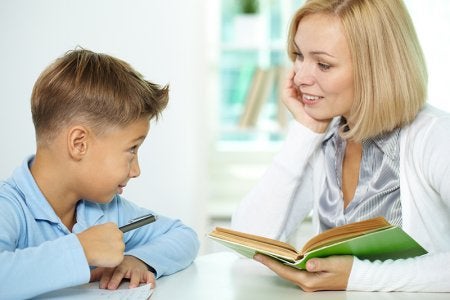 For children with disabilities or hindered development, an Individualized Education Program (IEP) can mean the difference between successful progress and failing, which can lead them to stop progressing and shut down. An IEP is a legal agreement between your school and yourself about the best way to educate your child and help her grow. Getting an IEP can be a long, stressful, complicated process, but once you've gotten the IEP, the process doesn't stop there. Here are some tips and steps you can take to ensure the success of your child.
Schedule regular meetings with the teachers
A good tip to follow is scheduling regular meetings or conferences with your child's teachers and others who work with them on a regular basis. This will not only open up room for discussion about your child's progress and struggles, but it will also help you and their teachers and caregivers bond and build a relationship of communication and trust. A meeting once a month or every other month will help you stay on top of your child's progress and successes, and if you have any concerns about your young one's development or the teachers' approach to the IEP, they can be discussed in this meetings. A good relationship will encourage conversational approaches to addressing any concerns that arise, and if you enter the meeting with positive notes first, it will make the staff more receptive to any concerns or criticisms.
Monitor your child's progress
Though it may seem obvious, monitoring your child's progress is a huge step in making sure an IEP is working effectively and being followed by staff. You should learn about any struggles your child is having at your regular conferences, but pay attention to how your child is doing at home, as well. If your child begins behaving unusually, shows signs of regressing, or develops new struggles, it's important to note this and let the school know as well so everyone can work together to address the issue. Looking over homework, reading notes from the teachers, and volunteering at the school are good ways to keep tabs on your child's progress and see how he's doing at school.
Get mediation if conflicts arise
If you feel the IEP isn't being focused on or implemented correctly, try approaching the school's principal or another administrator who is familiar with your child's needs and discuss it openly. Meeting with the teachers and staff should also be an option you go to when issues come up, but it's important to keep things conversational and calm, as the discussion dissolving into a fight won't help your child. If you go down these routes and nothing changes or gets worse, you have the right to mediation to help keep the situation from escalating. Neutral mediators are be available at no cost to you, and they will help you and school administrators resolve any conflict in a productive way.
Try to implement IEP goals at home
Another big step to take after an IEP has been put in place is to work on the IEP's goals at home. Teaching and reinforcing the skills and goals included in your child's IEP at home will help strengthen his progress with them, as well as show you how well he's doing. Tasks like tying shoes or eating without much assistance are things that you can help with, and you might be surprised at how much of a difference it can make. Having the skills reinforced at both school and home will help keep your child always working and practicing them, doubling the chances of success and progress.
Overall, taking steps to stay supportive, positive, and involved can make all the difference to your child, and finding a great institution like the Creative Learning Academy that is caring and experienced with IEPs can make the process easier for both you and your child.
Call to learn more about our experience with IEPs.