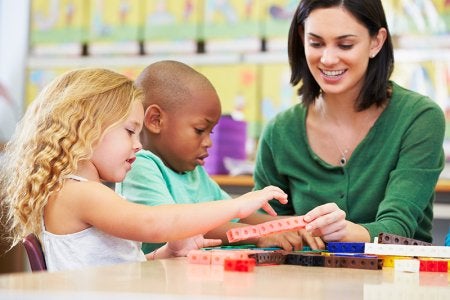 If you're reading this, chances are that your child is approaching the grand young age of three and you're beginning to worry about getting them into a great preschool. As parents, we know that the benefits of preschool—socialization, early learning, getting into a routine—are important to preparing your child for kindergarten, so it's not something you want to skip out on. Finding the right preschool can be difficult, though, especially if you're not sure if your child is ready, and looking early can better your chances of getting your child into the preschool of your dreams. The Creative Learning Academy has some factors to help you figure out when the best time to begin looking for a preschool is.
Is your child ready?
Something parents tend not to think about is whether or not a child is actually developmentally ready for preschool. Most preschools accept children at the age of three, sometimes two and half, but just because they hit that age range doesn't mean they're suddenly ready to go to preschool. It's important to keep track of your child's development to make sure they can handle the environment and being around other children and caretakers.
For instance, a certain level of independence is generally expected from children in preschool, such as being potty-trained, having the ability to wash hands when needed, and being able to eat lunch without assistance. They should have some experience being away from you, as well as playing with other children in a group setting. If they're used to routines and schedules, they'll be well-suited for preschool, but if one day is different from the next, then trying to get them on a more stable routine will help better prepare them for preschool.
Be sure to talk to prospective preschools and see what will be expected of your child. It's okay if your young one is not quite ready, as there are steps you can take to help. It would be upsetting or difficult for your child if she is sent to preschool when she just isn't ready for it yet.
What size town do you live in?
The size of your town and the demand for and number of preschools will also play a role in how early you should begin looking. In larger towns full of kids and eager parents, good preschools that won't burn through your wallet often have long waiting lists and few spots available. If you're in a smaller city, though, you might luck out and have a few good options with shorter waiting lists and more spots. Larger cities that have a limited number of great preschools will mean that you should start looking as early as you can. Most preschools begin their academic year in August or September, which means you should start looking in December or January of the winter before your child will start preschool—if not sooner. As for smaller towns, starting to look in the January before your child is set to start preschool is probably a good idea, but it won't narrow your choices quite as much as in a big city if you're still trying to decide if your child is ready. The key is to start looking early, and if you end up on a waiting list, check back regularly to let them know you are genuinely interested in the preschool program .
Start looking early
Once your child hits two years of age, it wouldn't hurt to start casually poking around your town and seeing what preschool options are available. Ask about requirements for the children they accept, and look into their waitlist—finding out how many people are on it and how long the wait is will let you know how early you need to apply. Check with other parents around you and see what preschools they love, and ask them when they started looking and applying, as that will usually give you a good indicator as well.
Great preschool programs like the Creative Learning Academy can be hard to find because reputation through word-of-mouth keeps spots full, negating the need to advertise. Give yourself ample time to research the best preschools. You'll appreciate the effort when your child and you both fall in love with a great place.
Live in Succasunna? Call and ask about our waiting list.