Trick or treating safety tips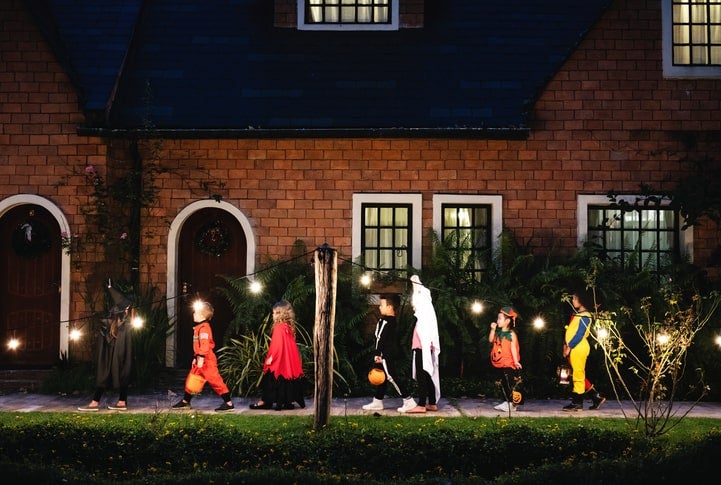 Ask kids about their favorite holidays and Halloween will almost certainly be near the top of the list. What could be more fun than dressing up in costume and heading door to door to ask for candy? For parents, though, the night can be a little bit nerve-wracking. Danger can seem to lurk around every corner, and keeping your children safe can feel like a difficult task. Fortunately, with a little bit of planning, you can have a Halloween that's both fun and safe.
Decide on your route ahead of time. Trick-or-treating is fun until it's not, and walking too far from home is one way to suck the fun right out of it. Avoid sore feet and short tempers by planning your route before you leave the house, sticking to familiar paths so you don't get lost.
Make costumes safe. Choose costumes in light or bright colors, and use reflective tape or stickers to make your kids more visible. Use face paint and makeup, because masks can obstruct vision and make the costume hazardous. Make sure costumes are the right size, to reduce the risk of trips and falls. Steer clear of any props or accessories that are sharp or could be dangerous, and make sure makeup is non-toxic and wigs are flame-retardant.
Keep it comfy. Costumes should be comfortable enough for kids to freely move around, but perhaps the most important thing to remember is to put them in comfortable shoes. Kids' feet shouldn't hurt by the end of the night, and their shoes shouldn't slow them down or trip them up.
Stick together. Kids under 12 need parental supervision while trick-or-treating, but even when they're old enough to go out without you, they should never be alone. Use the buddy system to help kids stay safe, and make sure everyone in the group knows basic safety rules.
Teach kids to follow the rules of the road. Of course, your children know to stay on the sidewalks, look both ways before crossing, and use crosswalks when possible. They probably also know not to run across unfamiliar lawns in the dark, but it's good to remind them of all the rules before they start out on Halloween, because in their excitement they might forget.
Sort the candy before anyone eats any of it. To be on the safe side, throw away any candy that's open or looks iffy in any way. Be cautious about choking hazards for younger kids, like hard candy or gum.
Keeping your kids safe on Halloween is a matter of following some simple rules. Keeping them safe and engaged means finding the right preschool and after school program, and if you're in the Succasunna, New Jersey area, you owe it to yourself to check out Creative Learning Academy. Our most sought-after preschool and afterschool programs in New Jersey provide an integrated curriculum full of fun, engaging, safe activities. Tailored to suit each age, grade, and stage, our programs give children time to relax and interact while still ensuring that their homework is completed and their education supported. For more information, visit our website or call 973.541.8241 today.