Thanksgiving Traditions from Around the World to Make Your Own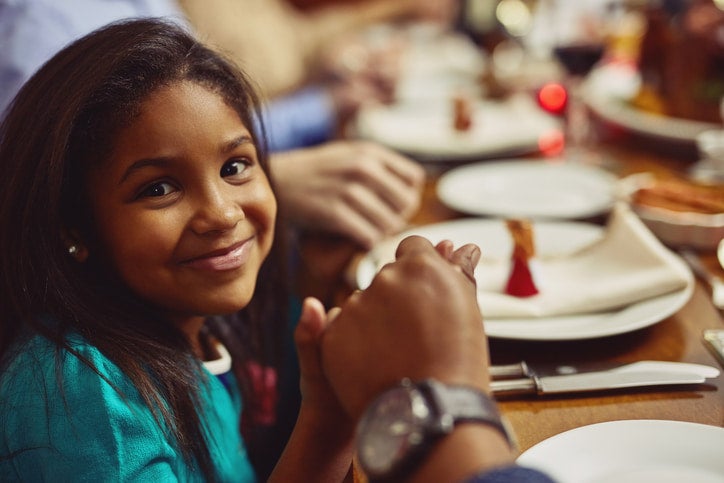 What's your Thanksgiving tradition? Do you eat a big meal with extended family and friends, or is it a more intimate gathering of only immediate family? Do you watch the parade on television, throw the football around, take an after dinner walk, or gather around the piano to sing songs? Some families have turkey, others eat a vegetarian feast. Some families travel long distances to see family they only see once every year or two, while others stay home and volunteer at a local charity, feeding those less fortunate than themselves. Whether your kids pull the wishbone or put on a Thanksgiving pageant, whether you prefer homemade cranberry sauce or sauce from the can with the lines still on it, there's no wrong way to celebrate this holiday. But how do people celebrate it in other countries?
To be honest, that's a bit of a trick question, because Thanksgiving is really an American holiday. It's predominately celebrated in the United States and Canada, and while it's celebrated in some other places, like Australia, Liberia, and certain islands in the Caribbean, it was carried to those places by Americans. Unlike Christmas, which has a long history throughout the world, Thanksgiving was created to commemorate the "first Thanksgiving," a harvest celebration shared by Pilgrims and their Native American neighbors.
However, other countries do have similar holidays.
In Africa, the harvest festivals involve a lot of dancing and singing, performed by people in traditional outfits and masks. Two of the most popular harvest festivals in Africa are the Festival of Yams and the Homowo Festival, both held to offer thanks and celebrate the cultural heritage of different ethnic groups.
In Austria, the Harvest Festival is about enjoying life. It starts on Saint Leopold's feast day, which begins the new wine season. During rural harvest times, Austrians give thanks by holding church services, parades, and country fairs.
In Bali, Nyepi is one of the most important festivals of the year. During this festival, all people must remain silent, and no is allowed to travel, work, or take part in indulgences. IT's a time of purification, in the hope of good crops.
One of the biggest harvest festivals in China goes by several different names. The August Moon Festival, also known as the Mid-Autumn Festival or the Moon Cake Festival is held close to the autumnal equinox, and it ends with a big feast. People give Mooncakes to each other in gratitude and enjoy music and dancing. Families enjoy picnics and dinners, and children are treated to puppet shows and parades.
In the Netherlands, Martinmas is a harvest festival held on November 11. Churches are decorated with home-grown produce, people eat roast goose, and children march in parades carrying homemade lanterns.
What can you take away from different cultures and the ways they celebrate festivals of gratitude? You might not want to remain silent like the Balinese, but perhaps you could use Thanksgiving as a time of reflection and pursuit of purity. Maybe you can use this time to celebrate your family's cultural heritage or enjoy some music, dancing, and singing. You might put on a puppet show, decorate with produce, or help your children decorate lanterns and hold a parade.
Learning about holiday celebrations around the world is a great way to celebrate diversity. Another way to promote an appreciation of others is to put your kids in a preschool or an afterschool program that's diverse. At Creative Learning Academy, we serve families from all around the Succasunna, New Jersey area, so children in our program get to interact with people who they might not otherwise know, through school or the neighborhood. Our most sought-after preschool and afterschool programs in New Jersey provide an integrated curriculum full of fun, engaging, safe activities. Tailored to suit each age, grade, and stage, our programs give children time to relax and interact while still ensuring that their homework is completed and their education supported. For more information, visit our website or call 973.541.8241 today.