Healthy Snack Ideas for the Holiday Season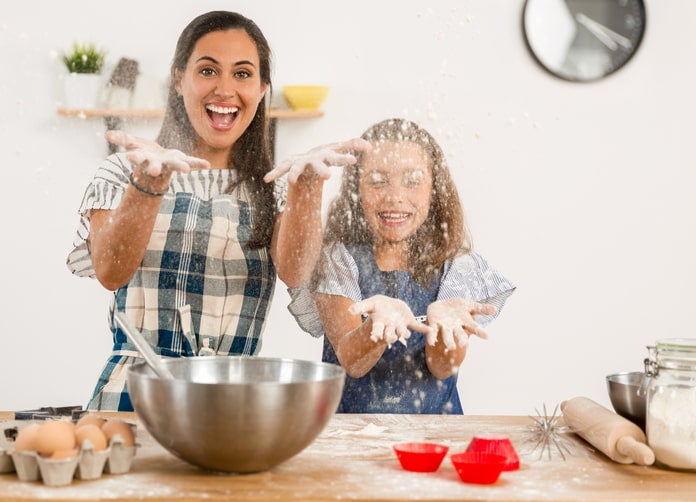 Oh, the joys of feeding kids during the holiday season! Rich foods abound, schedules are topsy-turvy, and kids are hyped up on holiday vibes, which can make it harder for them to sit through a full meal. One way to make sure your kids are getting the right nutrition during this hectic time of year is to keep snacks at the ready, to stave off cravings and keep blood sugar at a healthy level. You can also bring healthy but festive snacks to holiday gatherings you attend so that you'll know your kids have options that aren't full of sugar and fat.
Make fruit kabobs that look like Santa hats. It's simple! Just use a skewer to stack a grape, a banana, and a strawberry, perhaps topped off with a mini-marshmallow.
Arrange fruit and cheese into a Christmas tree. Kids and adults alike appreciate a visually appealing snack, so if you're tasked with bringing a dish to a party, consider a thoughtfully arranged fruit and cheese plate.
Make sandwiches fun with cookie cutters. You can cut them into snowmen, stars, or some other festive shape, to make kids more interested in eating them.
Use googly eyes and pipe cleaners to turn applesauce cups into reindeer. Turn the cup upside down, put googly eyes on the front, and glue pipe cleaners shaped like antlers to the back. For a particularly festive touch, add a red jingle bell nose.
Sharpies and scraps can make string cheese into snowmen. Draw a face on the front of the string cheese wrapper, top the cheese with a top hat made from a scrap of construction paper. Add a jaunty scarf made from a colorful scrap of fabric.
What if the holiday season has you feeling crazed, and you don't have time for cute food? That's ok! When you have an hour, prep some snacks to keep in your fridge and pantry so you'll always have something healthy to grab. Some good options that can be prepared ahead of time include:
Boiled eggs
Cubed cheese
Sliced fruit and veggies
Nuts
Hummus
Carrot sticks
String cheese
Greek yogurt
When it comes right down to it, though, it's ok to indulge in some food that's not so healthy over the holidays. The important thing is to save the treats for big occasions, rather than having them in the house. It's also a good idea to incorporate regular exercise into your family's holiday traditions, whether that's walking around the neighborhood caroling, taking a family hike, or just stepping out to look at the lights. Spending time getting some exercise outdoors will create happy family memories and close bonds, as well as helping to keep your kids healthy.
As parents, we do everything we can to keep our kids healthy and safe. That includes choosing the right after school program, and if you're in Succasunna, New Jersey area, you owe it to yourself to check out Creative Learning Academy. Our most sought-after preschool and afterschool programs in New Jersey provide an integrated curriculum full of fun, engaging, safe activities. Tailored to suit each age, grade, and stage, our programs give children time to relax and interact while still ensuring that their homework is completed and their education supported. For more information, visit our website or call 973.541.8241 today.