Fall Activities for the Family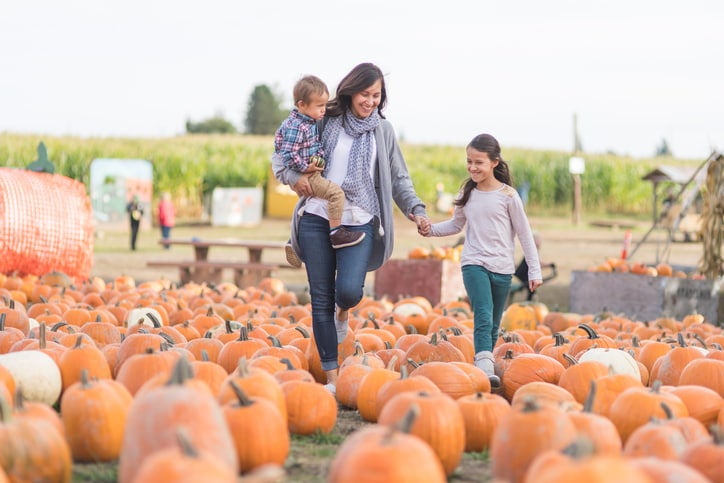 Fall is a beautiful time of year when the weather begins to cool down and the leaves start to change color. It's the perfect time to get outside with your family, now that the sweltering heat of summer has passed and the winter cold has not yet set in. What's more, there are tons of fun things to do as a family during the fall, whether indoors or outside, in a large group or small.
Go apple picking or visit a pumpkin patch or fair. No matter where you live, you're sure to find some place where there are fun activities like hayrides, bake sales, pumpkin carving, petting zoos, and more. Visiting some of these community events with your children is a great way to make memories.
Have a family game night. Family time doesn't have to be expensive or elaborate. Break out the board games, pop some popcorn, and enjoy each others' company with a little bit of friendly competition.
Drink hot cocoa around a fire. Whether it's a fireplace in the living room, a fire pit in the backyard, or a bonfire on the beach, there's nothing quite so cozy as relaxing by the fire with your family.
Enjoy the autumn leaves. There are so many ways to make the most of the colorful leaves in fall! Go on a walk or drive to find the most beautiful displays of color, or collect leaves with your children to press between wax paper or incorporate into crafts.
Decorate with home-made crafts. Fall gives us many excuses to decorate, whether it's Halloween, Thanksgiving, or just the season itself. Decorate with leaves, pine cones, and gourds, string popcorn and berries into garlands, or make owls and turkeys out of paper bags and construction paper. There are tons of fun crafts to do with your kids, and it's fun to decorate with childlike abandon.
Do some baking. What is more indicative of fall than the smell of fresh baked goods? Fresh breads, pies, muffins, cookies, or scones are all fun to bake together as a family, whether you prefer apple, pumpkin, pecan, or some other delicious fall flavor.
Have a picnic. Celebrate the cooler weather by visiting a beach or park for a picnic with your family. While you're out, go on a nature scavenger hunt, challenging each other to find certain colors and shapes of leaves, rocks, shells, pinecones, or whatever else is handy in your part of the country.
Fall is a fun season for spending time with your kids, keeping them engaged, active, and learning. If you're in Succasunna New Jersey and you're looking for a preschool program or after-school program that also focuses on those things, you owe it to yourself to check out Creative Learning Academy. Our most sought-after preschool and after school programs in New Jersey provide an integrated curriculum full of fun, engaging, safe activities. Tailored to suit each age, grade, and stage, our programs give children time to relax and interact while still ensuring that their homework is completed and their education supported. For more information, visit our website or call 973.541.8241 today.