Top 5 Things to Look for in a Preschool
When you're choosing a preschool, there's so much to consider and take into account that it can easily get overwhelming. From the environment to the requirements to the staff , there are signs of a great preschool that can be spotted with some time and research. The Creative Learning Academy knows firsthand what makes a preschool program great, so we've created a list of five of the most important signs that will let you know to either get away or get on the waiting list.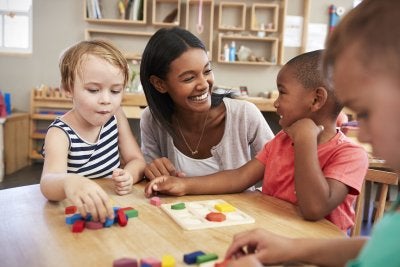 Curriculum
The curriculum of a good preschool should teach the basics you'd expect, but it should also leave some room for flexibility, allowing children to make choices about their learning. It almost sounds counterintuitive, to let three-year-olds decide what they learn, but experts have said that a structured curriculum that promotes discovery-based learning will help your child grow and stay interested. A good curriculum should involve crafts, group and individual activities, quiet time, reading, and physical activity to help improve motor skills. It should change over time with small tweaks for each child, but most importantly, the curriculum should encourage your little one's individuality, independence, and creativity.
Most good preschools have their curriculum in a format that you can look at before you sign your child up, and they should also allow you to observe their teaching styles and how they implement that curriculum.
Reputation
Great preschools will always have a positive reputation. This isn't to say that you won't run into the occasional angry parent or bad review, as this could result from disputes with the preschool director or the placement of a child who wasn't a great fit for that school, but the overall opinion on the preschool should be positive. You should ask for references from the preschool, and if you have the time, visiting the preschool at pickup time will give you the opportunity to speak to parents of the children there to get their honest opinion. Pay attention to the children, too—if most of them don't look happy to be there, it's probably a good sign to keep looking.
Staff
Qualified teachers and caregivers will be another sign of a good preschool choice. Though it's not required in all states, the main benefit of choosing a preschool over a nanny or babysitter is the training, so you should look for a preschool whose teachers and staff have a background in child development and at least two years of college. Training in CPR and first aid are also important certifications for a teacher or caregiver to have. If you visit the preschool and the teachers are positive, enthusiastic, well-organized, and love their job, that's usually a sign that you're in the right place. The teachers should ask about the children to ensure that they're a good fit for the preschool program, and if they love what they do, it's indicative of a low turnover rate, which means more stability for your child.
Rules
The rules of the preschool should be clearly communicated to both you and your child. It's important your child knows what he can and can't do, and positive reinforcement and behavior guidance are good things to look for. Pay attention to how the teachers and students interact with each other, especially in situations where a child is misbehaving or upset, to see how they handle it. A teacher yelling at a child and sticking him in time-out without otherwise addressing the issue is a red flag, as positive redirection, acknowledgement of the child's emotions, and working through the problem calmly with the child are important parts of good discipline practices. A preschool should also have rules and regulations for you, as well, such as illness policy, how they handle emergencies, and clear operating hours.
Overall, the staff should be clear with your child on rules. A positive sign of a great preschool is a relationship of respect between the teachers and little ones, rather than wielding authority like a war-hammer to "keep kids in line."
Environment
The final important thing to take note of is the environment the preschool provides. A good preschool will have an open floor plan to make sure the children can be seen by the teachers at all times while having plenty of room to play. Safety precautions should be evident, such as rounded corners on hard objects, covered electrical outlets, and secure storage of materials that could pose a hazard to the children, such as cleaning supplies or paint. Toys should be age-appropriate and safe. The area should be clean with clearly delineated spaces for different types of play and activities, and the furniture—like bookshelves, storage bins, and tables—should be low and within easy reach of the children so they don't have to ask for help when getting a toy or book.
An all-around great place
In short, the top 5 signs of a great preschool include qualified and friendly teachers, a safe and accessible environment, clear rules and methods of discipline, a great reputation, and a curriculum that is stimulating, flexible, and discovery-based. The preschool program should have an open-door policy, allowing you to stop by and see your child at any time, and it should encourage you to take part in your little one's experiences there, such as inviting you on field trips, to help with activities, and to visit when you want. Teachers should be open with you about their policies and how your child is doing, and the preschool as a whole should feel like a community, encouraging individuality, independence, and creativity. As the Creative Learning Academy knows, children are wonderful little beings who deserve attention, encouragement, and playtime, and these signs will help you find a preschool that promotes that ideal.
In Succasunna? See how we stack up to the list.